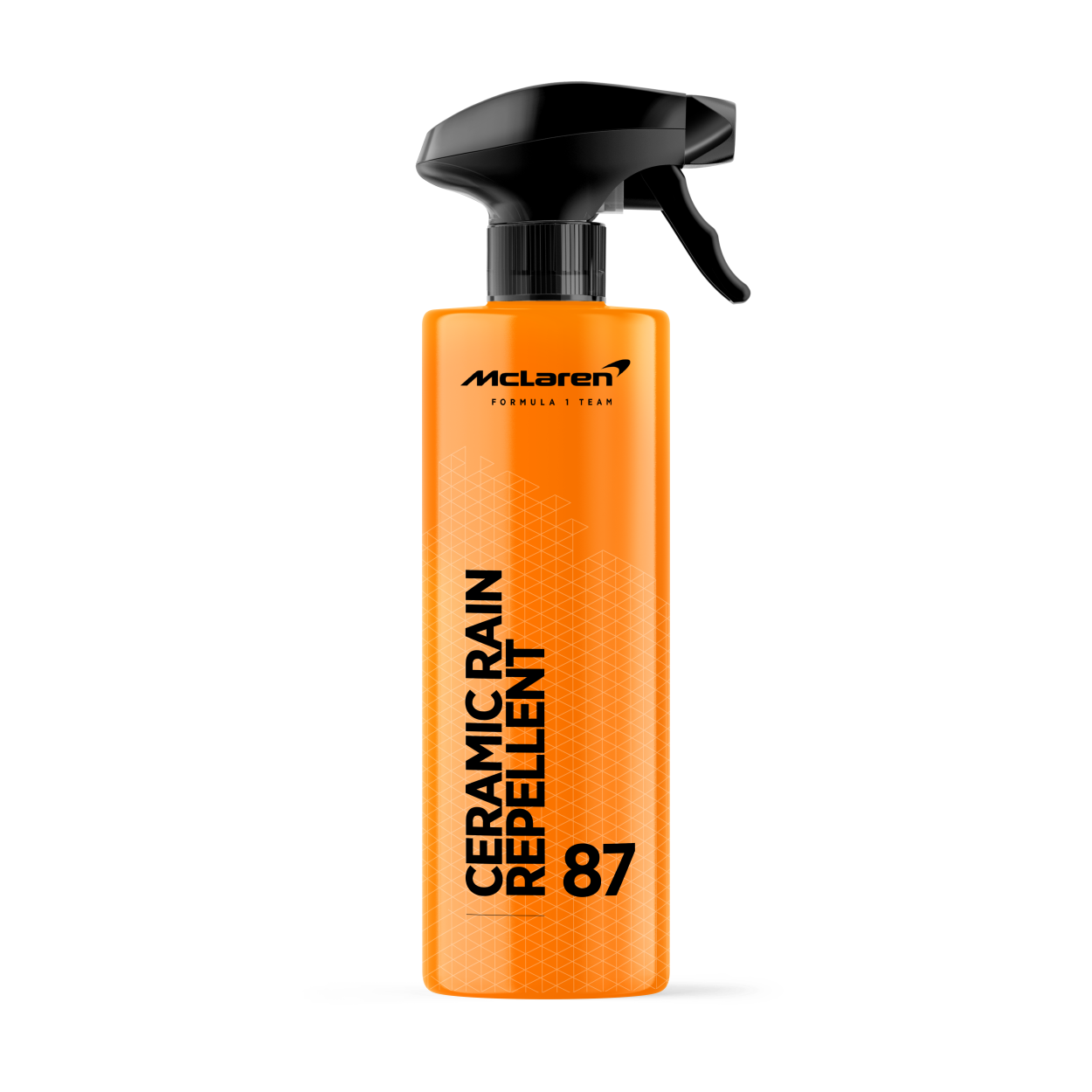 Ceramic Rain Repellent (500ml)
---
Introducing the McLaren Ceramic Rain Repellent. This innovative and easy to use product was designed to improve your driving experience, visibility on the road and safety even in the harshest weather conditions.
Using ceramic technology, this coating will make water bead off from your windshield and headlights making driving safer and reducing your wiper blades usage.
Coated surfaces will also become far easier to wash and will stay clean for longer. Once you applied our Ceramic Rain Repellent, you will notice that bugs, bird droppings, contaminants and ice will be far easier to remove.
Easy to apply.

Improve visibility and safety on the road.

Reduce the wiper blade usage.

Hydrophobic properties makes water bead off from your windshield.

Reduces adherence from dust and contaminants like bugs and bird drops.
The McLaren Racing Car Care range has been created without compromise to ensure that it complements the team's ethos and dedication to excellence.
1. Make sure the surfaces are clean and dry before use.

2. Do not apply in direct sunlight. Do not dilute.

3. Spray on the surface and evenly spread the product with a clean microfiber or application sponge.

4. Let the coating sit for 10 to 15 minutes at room temperature.

5. Buff the surface with a clean microfiber.

6. Allow a minimum cure time of 2 hours before exposing to water or rain following the application.

Due to the nature of our products, McLaren Car Care authorizes refunds or exchanges upon validation only if the delivered product is different from the one ordered or if the delivered product is defective or deemed unusable. The customer has 30 days from the delivery date to contact the Support Team at info@mclcarcare.com and claim its refund or exchange. Refunds or exchanges won't be granted without evidence and validation of the claim by the McLaren Car Care Support Team.